Aruba Clearpass – What's on your network?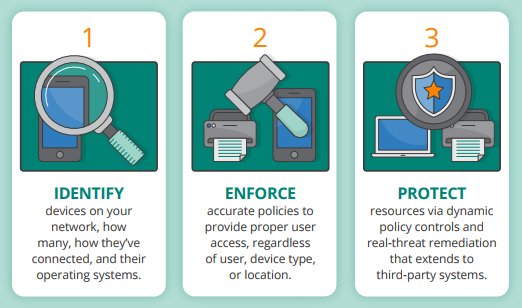 CLICK HERE FOR MORE INFORMATION
Know what's on your multi-vendor wired/wireless networks!
With the billions of IoT devices expected to connect to networks in the next three years there is a demand from IT professionals for real-time visibility and reporting. They need a solution that offers continuous monitoring and profiling rather than periodic updates, regardless of location, time-of-day, or endpoint type. Visibility and detection is a minimal starting point for securing your network. Automated fingerprinting, profiling of endpoints and continuous observation is also needed for extended control of the devices and users connecting to your network. This is what Aruba ClearPass Visibility is here to provide today!
Is your business ready?
In the longer term it's not just about visibility, you will also need a seamless path to take you from visbility to wired and wireless access control, attack detection and adaptive response- based on clear and well informed access policies. ClearPass Visibility provides that starting point as well as the seamless path to full control.
What's included with ClearPass Visibility?
Virtual Appliance (VMWare ESXi, Hyper-V or KVM)
100 Access licenses- Provide Device Visibility, plus Access Control for up to 100 concurrent TACACS/RADIUS, or Guest connections.
Built-In reports with simple to view charts along with detailed drill down info, plus custom report creation. These include Device category breakdown – device types and counts, and Endpoint classification status – know, unknown, disabled; location and IP, MAC address
Aruba ClearPass Visbility Benefits
Automatic detection and categorisation of endpoints for security and audit demands. Continuous monitoring of all devices, including those that come and go!
Agentless visibility that lets you find devices like BYOD smart phones, and IoT.
Contextual attribute sharing that extends visibility to a wide range of security and IT-services solutions.